Back
· VIP Accompaniment ·

Also for our section VIP Accompaniment our employees are recruited in a most secure way. As stated before, we prefer working with regular teams, so our team members will both learn and work with each other and will therefor be able to back each other up without hesitation.
The most VIPís want complete and full protection without being isolated. Our employees will therefor guarantee, in any situation, the safety of our clients. Depending on your wishes, they will be wearing a tuxedo, a more friendly outfit, a suit or even clothing specially designed by you, meaning we could be very present or hardly visible.

Your wishes will be discussed in advance so nothing can or will be in the way of a safe and secure appearance. For completing an assignment we use the most modern communication devices, like cellular phones and other devices. While using these devices we will always work most discretely.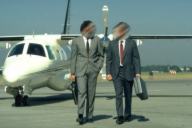 Also see Privat Chauffeurs and Bodyguards



---
---
This site is owned by Security 4 You.